Staying Slim and Slender This Summer with Bitfood
One of Lebanon's biggest natural treasures is the Mediterranean Sea, which borders the entire length of the country's west coast. And the Lebanese sure love their beaches! As early as April and as late as October, they can be seen frequenting the seashore, slathering on sunscreen (or gobs of tanning lotion), and slugging back a bottle of beer as they bake contentedly under the sun. It's pretty much a national pastime, with beautiful bodies prancing around and showing off their summer-ready physiques.
How to keep those shapes fit and trim? Eating healthy is the secret, and with Bitfood's awesome filter feature, you can forage for clean eats in no time. Here are some ideas from a selection of eateries hosted on the app.
Food Engineers Pizzeria. With a name that incorporates "engineers," you know this pizzeria must be optimizing taste while tinkering around with fresh, wholesome ingredients. Indeed, their slogan is "made with light ingredients to reduce your guilt," and they offer a slew of items baked with oat dough. If you're craving a wrap, choose among grilled halloumi, shrimp, fajita, kafta, and crab, all prepared with reduced calorie sauces and a cornucopia of veggies. You could make a beeline for their Lighter Line items such as a Pizza Margherita (490 kcal), Chicken Burger (325 kcal), or Tuna Wrap (300 kcal).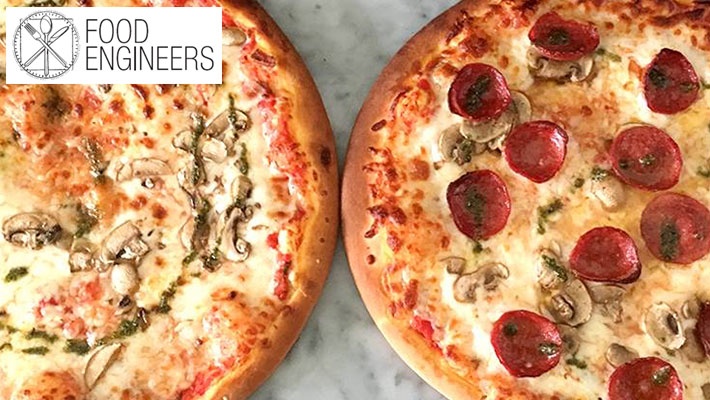 Baker's Bake Zalka. Here's another bakery, or "furn," that has dedicated menu sections labelled "Man'ouche Light," "Rolls Light," and "Pizza Light," so that there is absolutely no doubt as to the healthfulness and nutritional profile of what you're consuming. Opt for a simple Light Zaatar (357 kcal) or Light Jebneh (400 kcal) crafted with reduced-fat Akkawi cheese. If the paunch is a bit more ravenous, you might want a full-sized pizza such as the Classic (500 kcal), which packs in turkey, mozzarella, mushrooms, green bell peppers, and oregano. Mamma Mia!
Abou Abdallah. If you want something quintessentially Levantine and packed with natural fiber, head to Abou Abdallah in Dora. "Foul" and "balila" are cooked in giant vats over a slow fire. Try a plate of "fatteh," which in its simplest form layers stewed chickpeas, toasted pita chips, plain yogurt, pine nuts, and a drizzle of olive oil. If you're feeling especially indulgent but wish to remain within the limits of healthy, finish off your meal with "debs" (carob molasses) and tahini.
Ahi Poke Antelias. Maybe what you're really after is light Hawaiian fare called "poke." Who hasn't heard of the raw bowls that have taken the culinary world by storm? At Ahi Poke in Antelias, the Supreme signature bowl comes brimming with steamed rice, salmon, tuna, octopus, shrimp, crab, avocado, zucchini – need a breath? – scallions, soy sauce, gold ebiko, wakame, ponzu sauce, sesame seeds, and furikake rice seasoning. Sounds like a mouthful, but if you boil it down to its constituents, you're looking at fish, veg, and natural dressing.
Bpro Catering. Seeking delicious, generous and affordable food? Yeah, we know that's a trifecta rarely achievable these days. Bpro Catering fits the bill, with liberal platters liked the grilled Fish Fillet (Light) served with steamed vegetables, grilled potatoes, salad and dessert, all for a mere 14,500 LL. If you're missing a home-cooked meal, feast on Kousa Me7chi w Wara2 3enab, or stuffed cored zucchini and grape leaves, accompanied by salad, dessert and fruits, all for 13,000 LL.
Contributed by Danielle Issa.